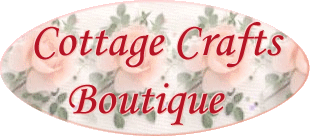 About us...After 29th years the service




remains warm, cozy and friendly
Founded in April, 1994 Cottage Crafts Boutique is located in San Jose, in the Cambrian Park Plaza. The goal was to create an upscale Crafter's Mall with a warm, cozy, and friendly environment offering the highest quality handcrafts with an emphasis on superior customer service. Cottage Crafts Boutique reputation has blossomed since it's opening and the store is now known as one of the best all around Crafter's Malls in Northern California. At Cottage Crafts Boutique we accept only the highest quality talented crafters and artisans looking for a place to display and sell their crafts. Customers are treated to a wide variety of exceptional Victorian, traditional, and contemporary handmade crafts and decorations that change with the seasons.The Cottage Crafts Boutique monument sign has become a notable landmark for local customers and residents. The tasteful Victorian Decor, appealing open beamed ceiling, and friendly sales staff help to create the ultimate craft shopping ambiance.

Gift Card Available Now

Our crafters proudly display.....

Wood Crafts, Ceramics, Decorated Plush, Victorian, Confections, Wearable Art, Doll Clothes for 16" & 18" Doll & 11" Fashion Dolls, Handmade Jewelry, Floral Arrangements, Seasonal Decorations, Custom Furniture, Award-Winning Jams & Jellies, New and Used Rubber Stamps & Accessories, Antiques, Handmade Table Runners, Potholders & Accessories, Teas & Accessories , Baby Shower Gifts, and so much more......